Have you ever found yourself in a situation in which you mistakenly did not include a stakeholder in project discussions? If so, was it slightly awkward to try to incorporate his or her feedback at the last minute? Perhaps it even conflicted with feedback you received from other stakeholders on the project. If you have never experienced challenges such as this with stakeholder selection, maybe you have struggled with communication with your stakeholder group. For example, have you ever engaged a stakeholder group requiring various frequencies and types of communications?
I recently attended a PMP (Project Management Professional) Prep Course hosted by the Nashville PMI chapter and Becker Professional Education. During the course, our instructor highlighted new material included in the latest version of the Project Management Body of Knowledge (PMBOK), in case any of us were familiar with prior versions. I found it interesting that a new knowledge area was added in the latest version (version 5) for "Project Stakeholder Management." Previously stakeholder management was lumped together with "Project Communications Management;" however, our instructor explained that PMI decided that this area was important enough to stand alone.
I certainly agree with PMI's assessment. In my experience, stakeholder identification is key to a project's success. It is a project manager's job to effectively identify and manage stakeholders in order to keep the project on track. I believe it is also critical to foster good relationships with each stakeholder. Here are two tools that I have found useful to achieve success in both areas.
1. Build an accountability matrix at the start of the project. There are a few models from which to choose, but I prefer the API model. Another common model is the RACI model (Responsible, Accountable, Consulted, and Informed); however, I struggle to differentiate between "Responsible" and "Accountable" in this approach. API stands for "Accountable", "Participant", and "Informed". You can use Excel to build a table similar to the example below, with stakeholders listed across the horizontal axis and key project tasks or milestones listed along the vertical axis. This is an effective way to identify gaps in terms of tasks or milestones that are lacking the necessary stakeholder input. Once you have organized the matrix, work with your team to designate each person as "A", "P", or "I." Finally, present this table to your stakeholder group for validation. The visual may even prompt them to remember to include a person or group that was not previously considered.

2. Create a communication plan based upon the completed accountability matrix. After determining who needs to be informed about the status of the project, it is important to decide how to communicate effectively with each person. All stakeholders are not created equal in this area. For example, the organization's CEO requires a different style of communication than does the representative from the IT department. Three important questions to answer are:
How often should communication occur? (e.g., weekly, monthly, quarterly)
What is the mode of communication? (e.g., meeting, email, conference call)
Who owns the communication?
Below is a sample communication plan template that I have used to manage project communications in the past.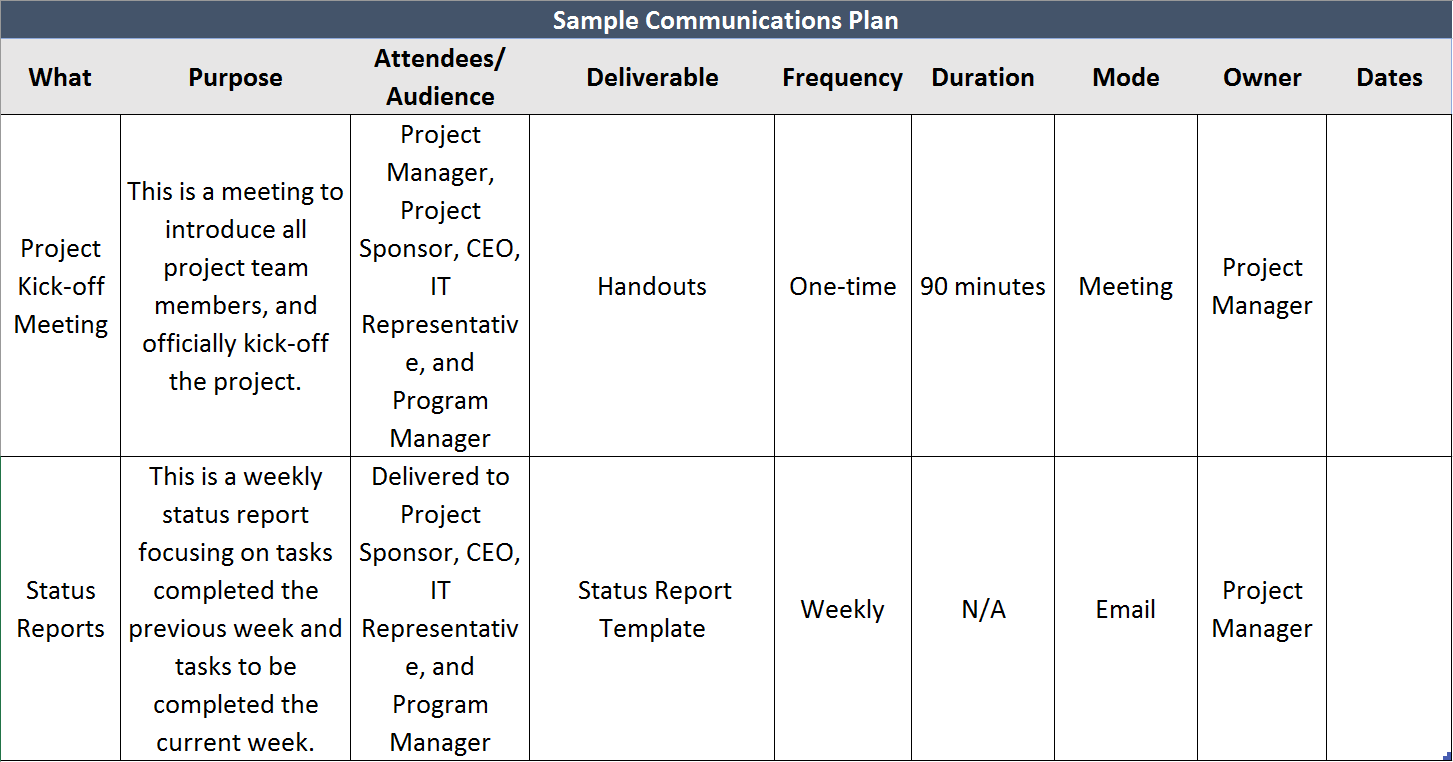 While you cannot account for every unique situation that might occur on a project, involving the right people from the start and managing communications with those individuals will build a firm foundation for meeting your project goals. I hope you add these templates to your toolkit and find success in using them!