Generating process efficiency through lean methodologies involves people change, and ignoring the people aspect is a frequent cause of lean project failure.  Coordination of lean and change management tasks adds value to the overall result as people and process efficiency are highly dependent upon one another.
The basics of the two methodologies and corresponding tools integrate easily and naturally.  The figure below illustrates this integration.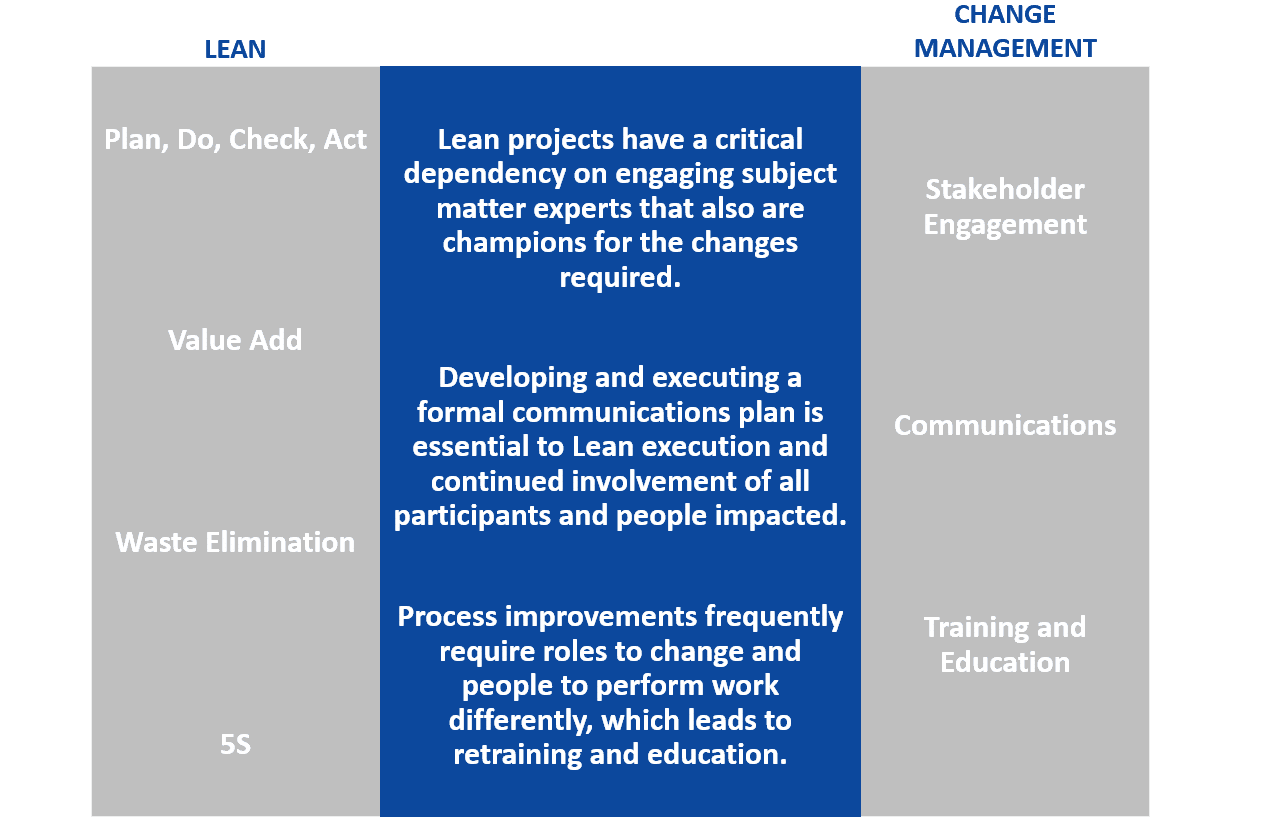 This level of integration of lean and change management has been effectively applied in recent client engagements, including clinical and administrative workflow improvements in support of a quality and cost improvement initiative, establishing a new community-based patient service model, and increasing the time and margin efficiency of a product implementation cycle.  In each of these, application of both lean and change management principles and tools was key to success and improved the quality of the outcomes.  So, what can you do to improve your level of lean and change management integration?  Here are a few tips that worked very effectively in the cases noted above:
1. Secure sponsorship that will also drive people change as required – this could be related to changes of roles and responsibilities, need for training or re-training, or working with HR on recruiting and staffing of new skills and experiences.
2. Identify a practical change management methodology like ProSci and apply to your lean project – secure an experienced and certified change management professional either internally or externally.
3. Identify all key stakeholders that must either participate in the lean project or will be impacted by implementation of the process improvements – build a formal communication plan that identifies the stakeholders, roles, level of engagement needed in the process improvement project, how they will be impacted, how they need to be communicated to, and frequency of communication required.
4. Develop a training strategy and plan associated with the process changes – this will help ensure that the people will be best prepared to fulfill any new roles and will help drive realization of the full benefits of the process improvements. It also illustrates leadership commitment to the people and support of their success.
Lean practitioners are change agents.  However, we can inadvertently get caught up in the technical aspects and tools of lean methodology and short-side the criticality of guiding and leading people through the changes.  The above four tips serve as great reminders to integrate change management with lean initiatives for more efficient and sustainable results.
Tweet us @InfoWorksTN to join the conversation!