Every year since 2012 Tableau posts its Top 10 trends for business intelligence. You can view the 2019 BI Trends report here: https://www.tableau.com/reports/business-intelligence-trends
Each year, I read this report with great anticipation. As a leading business intelligence and analytics solution, Tableau provides the industry with thought leadership and predictions. This years' trends report is no different.
While reading Tableau's 2019 BI trends report, I thought it would be fun to look back at 2018 to compare how the trends have evolved. You might like to look back at even earlier years as well. You can find each year's report from Tableau with a quick Google search.
Let's look back and see what's new, what has stayed the same, and perhaps make a few cautious predictions of our own for 2020.
What's new?
NLP – What is natural language processing (click link)?

Natural Language Processing has progressed over the last 3 years and is now laying the foundation for new and quicker insights. This emerging trend is really starting to take shape with BI tools and Tableau is leading the way.

AI – What is artificial intelligence? (click link)

Artificial intelligence is the creation of intelligent machines that work and react like humans. w
Gartner research indicates that by 2020, "85% of CIOs will be piloting artificial intelligence programs through a combination of buy, build, and outsource efforts."
What has remained the same?
Cloud – the cloud is here to stay. Companies continue to evaluate and move to the cloud at increasing speeds. Leveraging cloud resources continues to make economic sense for most companies.
Data Democracy/Self-service analytics – everyone should be able to explore their data. The question is, will they know how, or will people take the time to learn?
Data Governance – good governance practices are critical for trust and success in BI.
Top 10 Business Intelligence Trends for 2019:
The latest BI trend report from 2019 builds on last year's report with several new additions. One prediction that stood out to me was #8 – Enterprises get smart about analytics adoption. BI solutions are often deemed "complete" when they are rolled out to the users, but merely providing access to BI solutions is not the same as adoption. Organizations are re-evaluating how BI adoption plays a part in a strategic shift towards BI modernization, because true value isn't measured by the solution you deploy, but by how your workforce uses the solution to impact the business.
Going forward, I suspect more and more businesses will leverage concepts like change management to improve adoption for new BI and analytics strategies.
You can see the highlights from the 2019 predictions below.
The rise of explainable AI

As organizations rely more on artificial intelligence and machine learning models, how can they ensure they're trustworthy? Many machine learning applications don't currently have a way to "look under the hood" to understand the algorithms or logic behind decisions or recommendations, so organizations piloting AI programs are rightfully concerned about widespread adoption.

Natural Language humanizes your data

Advancements in NLP systems enable all people to unlock natural conversation with data.

Actionable analytics put data in context

BI platforms evolve to put data where people want to act.

Data collaboratives amplify social good impact

Focused on efforts from public and private-sector organizations strengthen 'data for good' movement.

Code of ethics catch up to data

Considering regulations like GDPR, leaders assess the future of ethical data practices.

Data management converges with Modern BI platforms

Governed data curation bridges the gap between data and business.

Data storytelling is the new language of corporations

Finding and communicating data insights is now a team sport.

Enterprises get smart about analytics adoption

What happens when leaders focus less on adoption and more on engagement?

Data democracy elevates the data scientist

Data scientists develop soft skills to drive organizational change.

Accelerated cloud data migration fuels modern BI adoption

Data is moving to the cloud faster than ever, driving organizations to rethink their data strategy.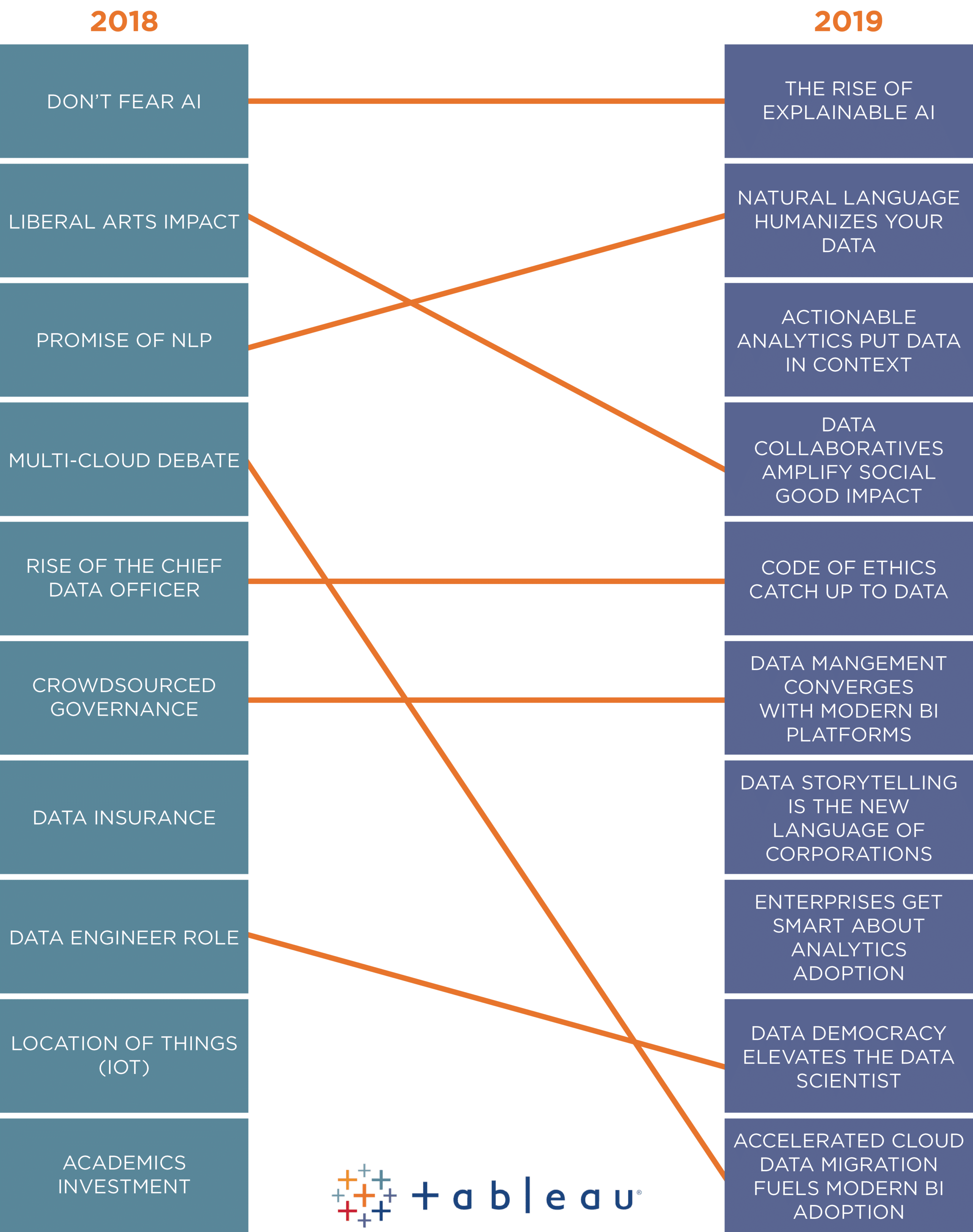 So how does 2019 compare to 2018?
Top 10 Business Intelligence Trends for 2018: https://www.tableau.com/sites/default/files/pages/838266_2018_bi_trends_whitepaper_1.pdf
In 2018, the promise of NLP became real. As mentioned already, NLP has been an emerging trend for several years now. Companies in all industries began to get traction with their NLP programs in 2018 and leverage the technology to create real business value at increased speeds. Technology companies and products are working to make everyone's life a little easier and I think NLP has great promise. We already have so many voice-enabled devices and our BI solutions are not far behind. I predict we will be able to interact with our BI tools much like we do with Alexa and Siri.
Check out the highlights from 2018 below.
Don't fear AI

How machine learning will enhance the analyst

Liberal Arts Impact

The human impact of liberal arts in the analytics industry.

Promise of NLP

The promise of Natural Language Processing will grow in prevalence, sophistication, and ubiquity.

Multi-cloud debate

The multi-cloud strategy moves forward in 2018 with many organizations moving their data and their applications to the cloud.

Rise of the Chief Data Officer

Data and analytics are becoming the core to every organization. That is undebatable. As organizations evolve, they're prioritizing a new level of strategic focus and accountability regarding their analytics.

Crowdsourced governance

Governance is as much about using the wisdom of the crowd to get the right data to the right person as it is locking down the data from the wrong person.

Data Insurance

Vulnerability leads to a rise of data insurance.

Data Engineer Role

The increased prominence of the data engineer will continue. Analysts and business users can't create dashboards and visuals without having all their charts, and to do this they will need a reliable data source to work from. Understanding data types, the flow of data, and databases will continue as an important asset to companies.

Location of things – IoT

The location of things will drive IoT innovation. Location based data with IoT devices is adding new value to analytics. By knowing where an IoT device is located, it allows an analyst to add context and better understand what is happening and what will happen in a specific.

Academics Investment

Universities double down on data science and analytics programs. According to a PwC study, 69% of employers by the year 2021 will demand data science and analytics skills from job candidates. In 2017, Glassdoor also reported that "data science," for the second consecutive year, was a "top job."
What new or old trends stand out to you? Do you agree or disagree with any of the predictions listed above? Join the conversation and let us know how you are transforming your daily work with data-driven insights.