Change is hard.  Try a simple experiment – move your trash can to the other side of your kitchen.  How frustrating is it when you toss a banana peel onto the floor where the can used to live?  From another angle, how much more frustrated would you be if someone else had moved the can and never told you?
On a much larger scale, when our daily work environment has the potential to change due to decisions outside of our control, we sometimes start to panic. In the healthcare industry, we have all been working under the umbrella of the Affordable Care Act for the past several years.  With the results of the recent election, the Affordable Care Act's future is uncertain.  Some of the processes established over the past six years may need to change, potentially in profound ways.
However, while the pace of change has accelerated due to the impact of industry trends such as advancements in technology or regulations, change has always been part of the healthcare industry.  According to Charles Sorenson, MD, president emeritus of Salt Lake City-based Intermountain Healthcare, "I've worked in healthcare for more than 40 years and I don't recall any time where things were status quo."  The good news is that change can be handled in a way that minimizes the angst within your organization.
Successful change happens at the individual stakeholder level.  We've discussed stakeholder engagement on this blog before, and the reason is that stakeholders are the key to any major change initiative.  The future state of an organization comes down to the changes that need to be made, person by person.  The first step is to identify your stakeholders.  Ask yourself a few key questions to identify these individuals:
Who are the key groups and individuals with a stake in the outcome of the change effort?

Who is impacted, positively or negatively, by the change effort?
Who can impact, positively or negatively, the change effort?

What customers, suppliers, regulatory, community or other external groups are affected by the change effort?
Who has a need to be informed?
Once you have identified these stakeholders, the next step is to determine their level of power and level of interest in the initiative.  Remember that power does not always follow a hierarchy in your organizational structure!  Any stakeholder that has the ability to impact change efforts in a significant way, is a high power stakeholder.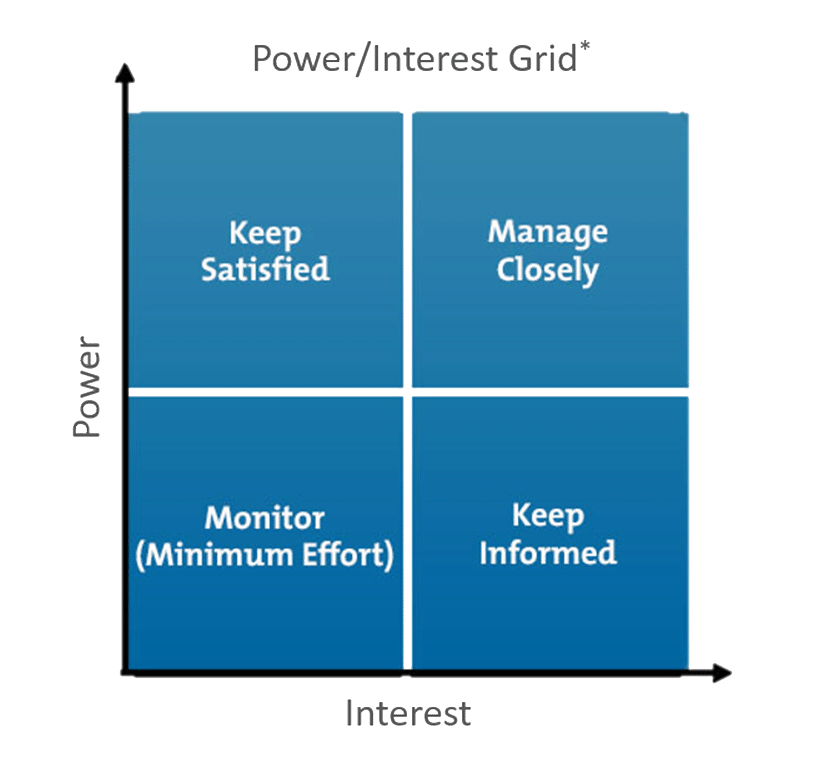 *Power/Interest grid for stakeholder prioritization: https://www.mindtools.com/pages/article/newPPM_07.htm
Once you have evaluated your stakeholders, develop an action plan for each stakeholder.  People who have high power and high interest in the change effort need the most amount of attention.  This could include 1:1 mentorship, training, and extensive project communication updates. The stakeholders in other categories may benefit from targeted and consistent communications regarding the change effort, delivered in a timely fashion.
Change is constant, particularly in healthcare, and will always cause bumps in the road.  Follow a thoughtful plan to engage with your stakeholders, and change will happen much faster and easier!
###
For more information, contact Lane Newsom at lane.newsom@staging.infoworks-tn.com.